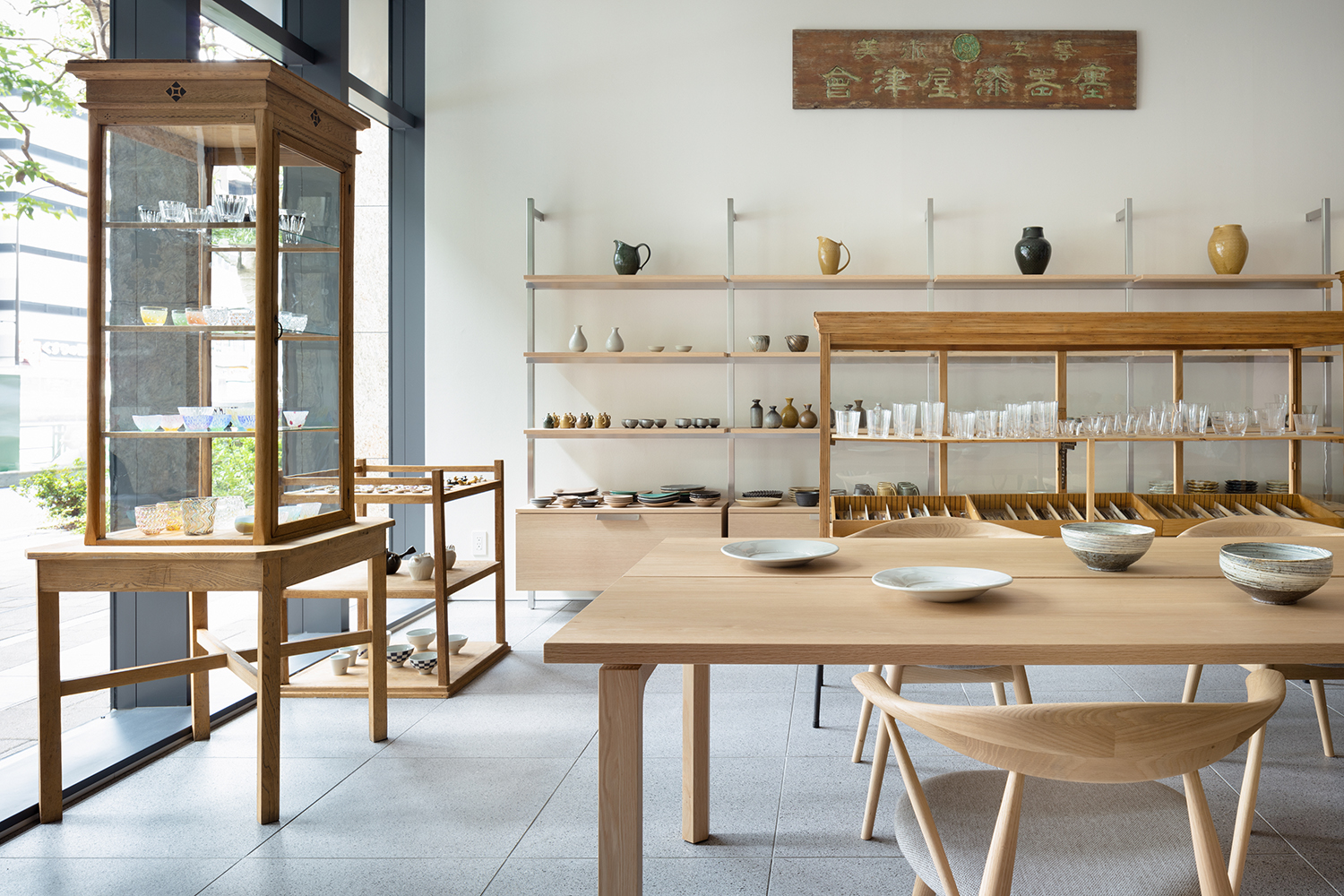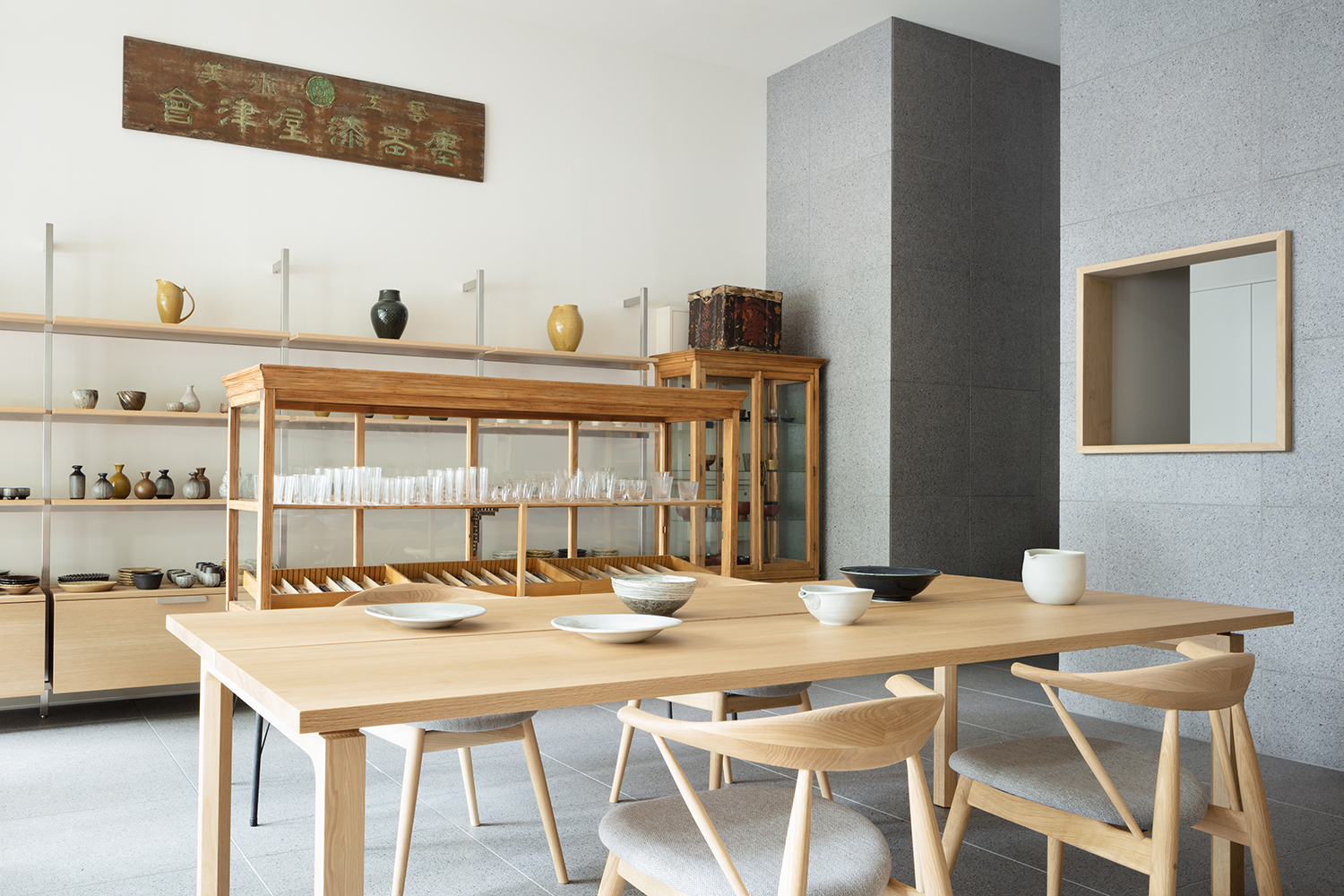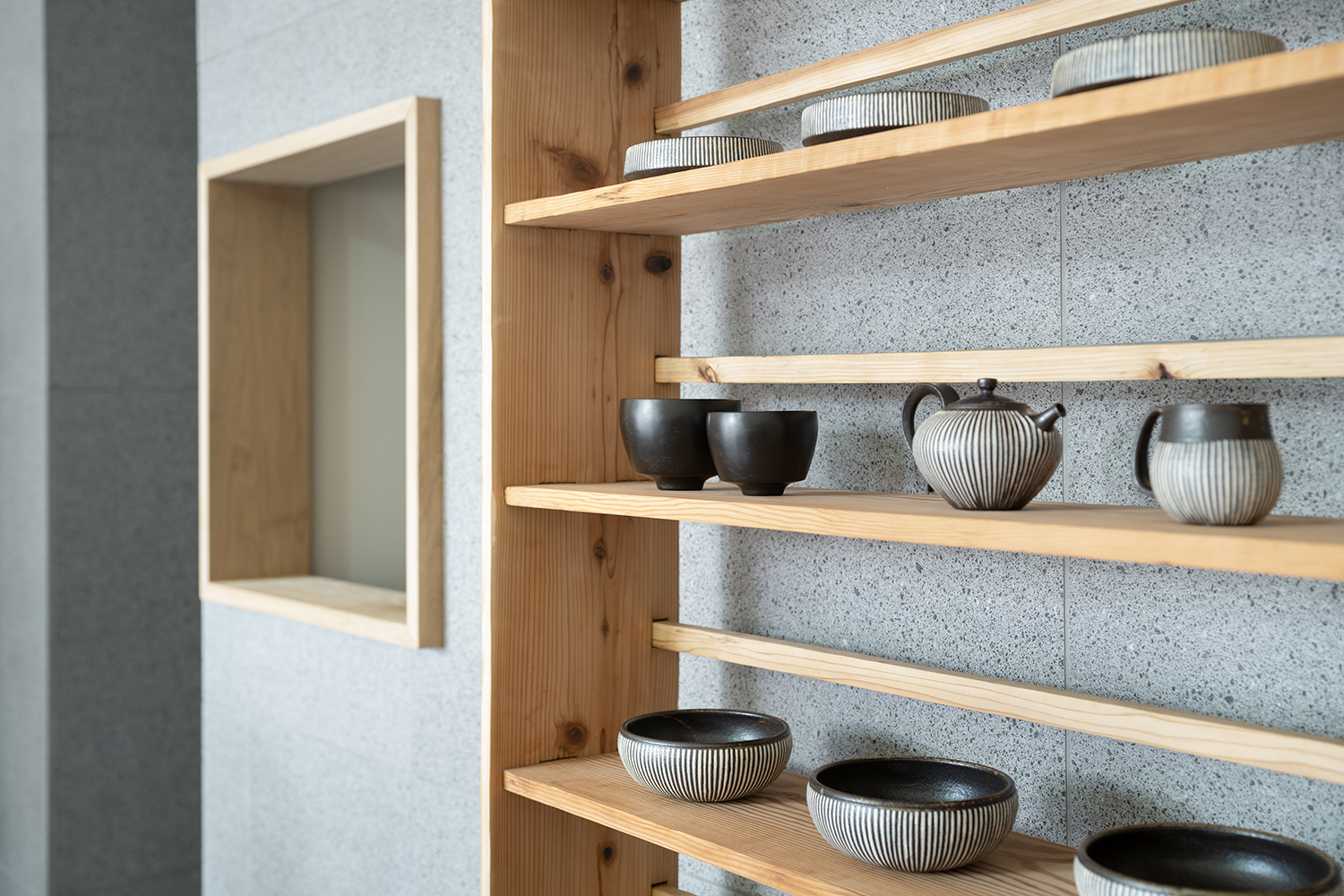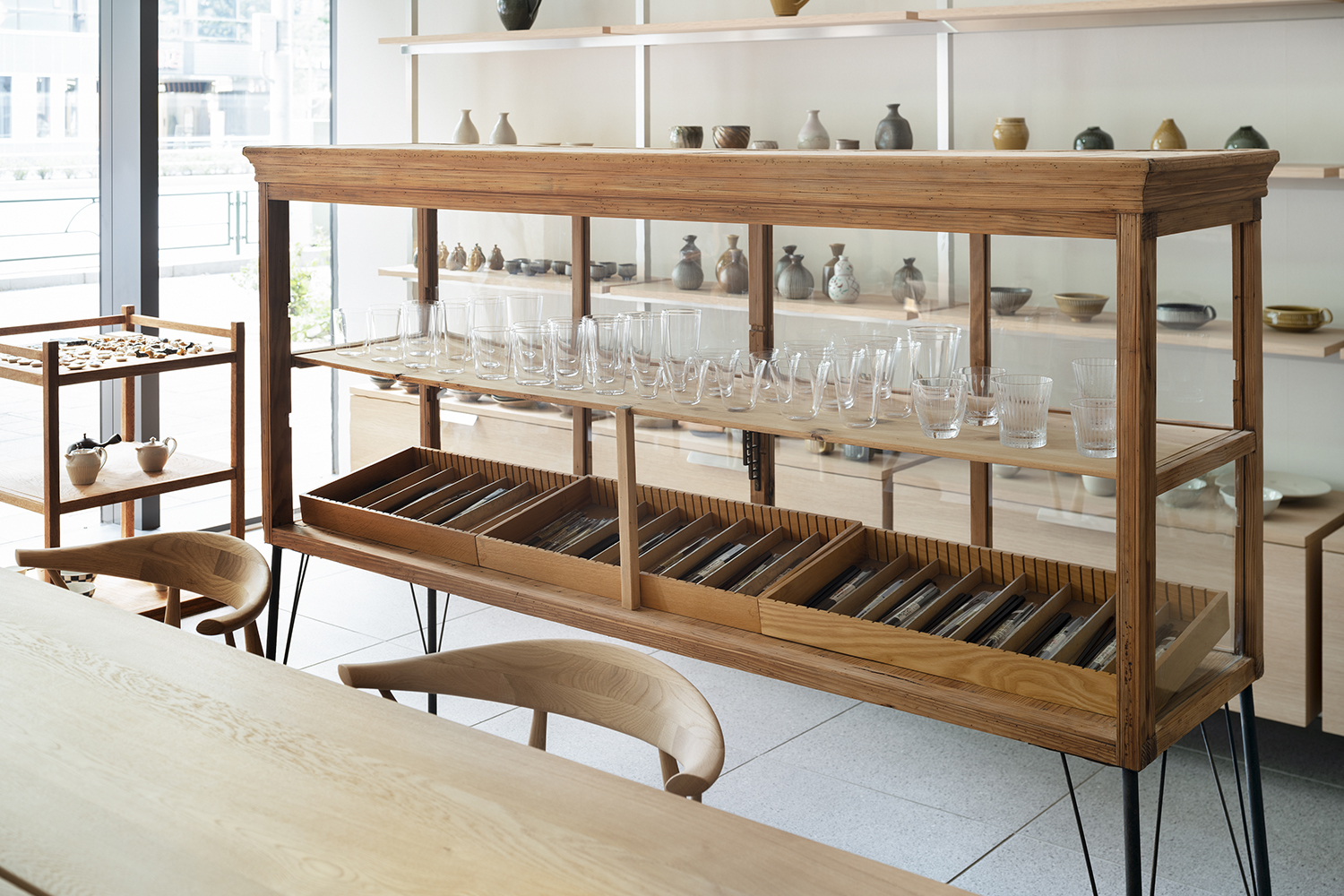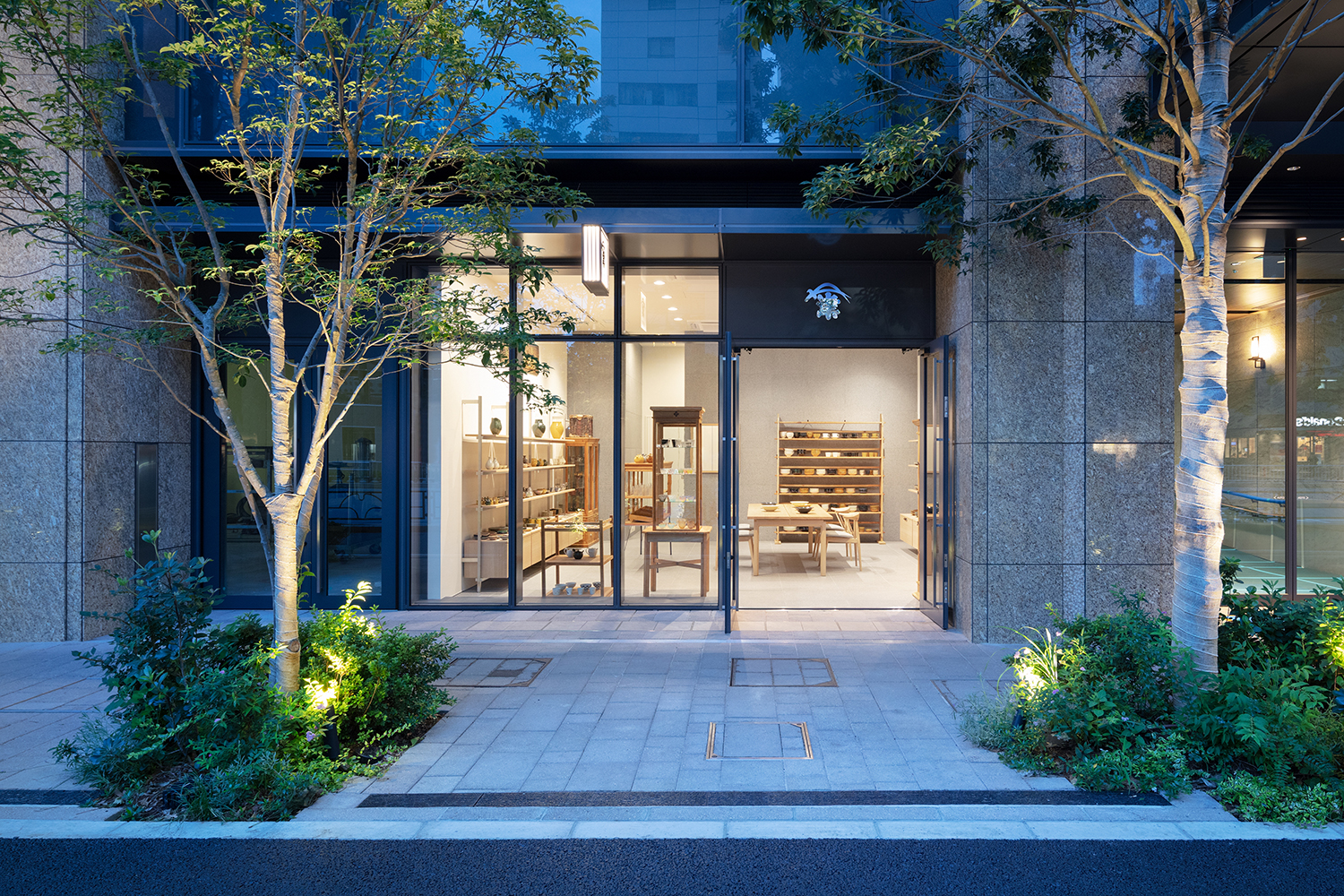 Photo by Takumi Ota
AIZUYA
Aizuya opened a new store in July 2021 following the redevelopment of the area in front of Kasuga / Korakuen station in Tokyo. With a history that goes back to 1717 when Aizuya opened the first store, the tableware store in the Bunkyo area of Tokyo has been loved by the local people since 1911.
The concept for the design of the new store was to retain the dignity of Aizuya's 300+ years old history and to reflect the cheerful atmosphere of the owner Koichiro Sugita in the space. The stores that have been in business until now are lined with display shelves in various finishes that give a sense of history and Kobayashi embraced the desire of the owner to continue using those display shelves that he had been using for many years.
Aizuya selects works by various artists, in a range of different materials such as ceramic, glass and Japanese lacquer.
To showcase in the best way such a variety of products, the interior design presents a neutral atmosphere.
As the display shelves had different finishes, the store owner himself and the design team sanded them, in order to reveal the natural wood underneath and give a sense of unity. This allowed them to match also with the newly manufactured furniture and table used for the space, as they were made of oak.
The result was a natural harmony of the tone for the entire space.
The large table located in the center of the store is set up so that customers can experience how the vessel looks and feels at home. At the same time it symbolizes the store owner's feelings of giving joyful time to their lives through the vessels.

会津屋(有限会社會津屋漆器店)は、春日・後楽園駅前の再開発に伴い、2021年7月に新店舗をオープンした。1717年(享保2年)創業の会津屋は、1911年(明治44年)より現在店舗を構える文京区に拠点をうつし、地域の人たちに愛されてきた老舗の食器店である。
新店舗のデザインにあたり、300年続く会津屋の格調を残し、店主の杉田幸一郎氏の朗らかな雰囲気を空間へ反映させたいという思いに至った。これまで営業を続けてきた店舗では、歴史を感じる様々な仕上げが施された什器が並んでおり、杉田氏より長年使用していた什器を引き継いで使い続けたいというお話を頂いた。
会津屋では様々な作家の作品を扱い、素材も陶磁、ガラス、漆まで多岐に渡る。多種多様な器を受容する空間として、ニュートラルな空間にすることにした。そのため、引き継いで使うことになった什器を杉田氏とデザインスタッフで研磨し、素地を見せることで意匠や仕上げの異なっていた什器に統一感を与え、新規で製作した什器やテーブルはオーク材で製作することで、空間全体のトーンを揃えた。
店内の中央に配された大きなテーブルは、お客様がご自宅での器の見え方や使い心地を体感していただくために設えたものであり、器を通じてお客様の暮らしに幸せな時間を提供したいという店主の想いを象徴するものでもある。
-
有限会社會津屋漆器店
〒112-0002
東京都文京区小石川1丁目5番1号
パークコート文京小石川ザ・タワー PC-105

© CheatHost INC. All Rights Reserved.